"My fondness for colours led me to an interest in art. As a child, I drew almost everything I saw!  Once in school, as I was pondering over my self made family portrait unsure what I should fill skin colour with – sensing some confusion, my teacher instructed me to mix pink with white to paint the skin of the figures I had sketched. I was quite befuddled with this statement because when I compared that pinkish white colour to my pale brown skin, something seemed amiss. I could not deceive myself into believing that I could paint everybody with the same colour and, indeed, the same brush. I was compelled to reflect upon the uncomfortable suggestion imposed upon me. Why were the lighter shades used as 'skin colour' and darker shades forcibly looked down at as an aberrant? Over days, weeks and years I learnt that the colours I loved so much, without judging any of them, did mean different things, even though people could not choose it for themselves at birth to adorn- black, brown or white!"
What does not kill you makes you stronger- my experiences
Life is about choices that eventually define us.  However, no one chooses their colour, ethnicity, or race. It is a given, and the world tends to define us by that irrespective of what lies beneath. Having worked across multiple continents in my career spanning over 24 years, there are several instances, experiences and learnings that have unfolded. There were times I felt elated, another time isolated and then vindicated. As I engaged with colleagues, friends, mentors, and support networks all around the world, I found that I was not alone in this journey and that there were others who were caught up in the same maze. It led to my quest of sharing these learnings with those who may benefit from my experiences.
My experience of where I found colour a hinderance was in Europe. Amongst the largely white populace in the country I felt prejudged, cornered, and frustrated. I am brown, my mannerisms were different, my English was Asian, my hair was black, but my heart was pure and pristine white.
However, I was sometimes not judged on my intent but challenged on my motivation for being different. I was different, but not wrong, and that gave me the courage to remain resilient.
Working across continents, even earlier in my career, I have always found myself being able to somehow stand my ground and push back. Not without any consequences; but that is a choice I took, and I have won many friends and encountered many unpleasant experiences too. It helps to sometimes acknowledge, accept, and then take the right steps.
Perceptions are not reality
Perceptions and biases are subjective feelings and thoughts based on limited data or exposure we might have. However, perceptions (even if distorted) guide our reality, that in turn guide our reactions. As per multiple studies – Black is associated with fear or mystery, White is pure or pristine and Brown is muddy or poor. Sadly, these impressions often lead to people creating perceived superiority or inferiority. This has continually driven our behaviour, access, economics; and the baton continues to be passed to future generations in the same way. Colour of the skin is the first visual clue and has a huge impact on the reactions that follow thereafter. In those first few minutes, views are formed and the only way they are overcome is through engaged conversations or deeper relationships. Sadly, not many have the time to do this.
These attitudes arise because of our early experiences within our family, our social circles, media and distorted realities that have been handed down over generations that become so-called gospels of truth. These gospels of truth become unconscious biases because there is enough legitimacy given to them by what we see and hear.
To say we will stay away from all levels of bias is unrealistic, but to be watchful and to be guarded against it, especially if one holds key positions and are taking key decisions (at home or at the workplace) is incredibly important.
Rigid views and reactions defined by colour or physicality without any experience with people different to oneself often lead to undesired outcomes or breakdowns.
To ensure we are on the right path, the exploration of motives, thoughts and views are important when we meet new people. For me, when I meet new people, my questions are usually open ended – "What do you enjoy or prefer to do in your time?", "Where do you get your mojo from?"  "What drives you?" This is more important than asking where you come from, or what is your religion or ethnic background.
Normalisation of racism
All the experiences I have written about in my book are real and things that I have encountered personally. In a corporate culture we often endure much, simply to avoid confrontation as we feel like a vulnerable minority.  This then becomes the new normal for how people treat us and what we accept from them.
As a mentor, I tell scores of individuals that there is never a rationalisation of tolerance or endurance – it should ideally be zero tolerance. You should be valued for who you are and what you bring to the table. Your ethnicity and colour of skin should have no bearing on any of this. The other side to it is to also be accepting of others. While you put yourself out there, you should also be open to accepting people on a neutral platform and not reacting to others as if they are superior or inferior to you.
Usually topics like ethnicity and racism have been ignored on a daily basis or are uncomfortable to acknowledge, let alone discuss openly, thereby legitimising such behaviour for the oppressor and the oppressed. Furthermore, I have found very few experiential learnings that pointed towards collectively working towards a solution. I wanted to make a humble attempt to enable us to at least share thoughts and invite reactions through this book. Colour of the skin offers us a coloured view of the world around us; and it is important to step outside these biases into the real world.
Shying away from Racism debate:
The journey starts with the self, even before we bring it to the workplace. When I say 'the self', I mean even those little interactions that happen on a daily basis, including with the shopkeeper down the road who thinks he is superior to me because I am dark. These are all fictions of the mind. The colour of the skin is not stating anything other than a misguided learning that I may have imbibed very early on in life and then clung onto because of lack of exposure, or because the media would have told me. However, the idea becomes so embedded within me that every action or reaction gets governed by it.
Racism is a problem and we know that. Unfortunately, although we may think otherwise, not too many people know or realise it as a 'problem' and this is the biggest issue today.
Some organisations are afraid to openly acknowledge the issue, let alone deal with the debate, usually due to the shame and embarrassment it carries.
Reality of numbers today
In the UK, the ethnic minority population percentage is 14%. Over 34% of the university and college population is BAME, of which 22% is workforce ready (10-12% are at mid-levels and only 6% get to board rooms). Only one in every 16 companies in FTSE top 100 companies have person of colour at the top. Unless we consciously strive and work towards changing attitudes, these numbers are not going to change. And there is plenty or research. Trust me, out there in the world, the UK is one of the most progressive countries that have a cauldron of diversity thriving as far as this agenda is concerned.
Way forward
Whether it be leaders or HR, let us first start with acknowledging that we have a problem. But constructively, we have an issue that can be resolved. I still believe we do not see this as a serious enough issue. We think it is kind of there, that we have good policy frameworks and we should meet those diversity and BAME targets. Efforts are around scrambling to comply with these structures. But compliance is not about inclusion. Compliance can be achieved in multiple ways. But to bring about a grass root level change, there must be strong messaging from the top and acceptance across all level. To make a "real change" we must accept different as different and not wrong, superior or inferior.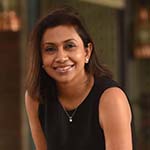 Anuranjita Kumar is a human resource veteran with over twenty-six years of experience working across the globe managing various assignments, including senior human resource roles in Asia, North America and Europe through her stints at the Royal Bank Of Scotland, and Citibank.
Before joining RBS, she was the Head of Human Resources for Citi, South Asia. She is equipped with first-hand cross-cultural experience as a woman in the global corporate world and has deep-seated knowledge about the working culture and dynamics in various countries.
Anu has now joined IndusCap Ventures where she is engaged in investment decisions and operations of early stage companies. Her seasoned experience is being leveraged for growth and devlopment for the new start up eco system. She founded Women in Technology, India forum in early 2020 that has seen a steep growth in a relatively short time.
She has keen interest in issues related to cross-border migration, diversity and racism. Recently, Anu has been recognised and featured on The Economic Times 'Women Ahead List 2018' for being an astute role model for India Inc and by the leading Asian D&I organisation – House of Rose Professionals as a Visionary Diversity and Inclusion Leader.
She Chairs the Board of the American India Foundatio n and is a Director on the Board of Plaksha University – a new age modern thinking tech university geared towards future-tech learning as well as on the Advisory board member of SHRM India. Earlier, Anuranjita has been on the board of Citi Services India Limited , and RBS Services India Limited.
She is an accredited executive coach and a gifted author having launched her second book – 'Colour Matters?' primarily addressing the issue of racial and colour discrimination still prevalent. Hear earlier bestseller book 'Can I Have it all' addressed the opportunities of being a woman in today's life – and in the need to opening oneself to accept these as privileges. Anu is also a philanthropist involved in volunteering with underprivileged children and a mentor to several upcoming start-ups.
A management graduate from XLRI, specializing in Human Resources. She attended Welham's Girls School and is a gold medallist and topper in industrial psychology from Delhi University. Apart from her regular work, Anuranjita spends a considerable time coaching Senior Executives and Start-up Leaders around the world.