Patricia founded the Care for Someone Charity in 2001, with the mission and charitable objective to ensure those suffering from disadvantages in life have access to education and training opportunities to help them realise their full potential. Women of Zimbabwe is a project of this charity.
The empowerment and autonomy of women and the improvement of their political, social, economic and health status is essential for the achievement of sustainable development. Many women face threats to their lives, health and well-being as a result of their lack of power and influence.
Women are also more likely to have a persistent low income compared to men. Living in poverty denies many women the opportunity to build up savings and assets to fall back on in times of hardship. Women of Zimbabwe is fully aware that achieving change requires policy and programme actions that will improve women's access to secure livelihoods and economic resources. Patricia advocates that 'everyone must have equal rights to participate in education, society, economy and politically regardless of their gender or background.'
COVID-19 and impact on women
It is well documented that women are already bearing the brunt of the economic crisis during the COVID-19 pandemic; this is far worse for women in Zimbabwe who rely mainly on the informal sector to earn a living. Their situation is further compounded by multiple factors such as the political landscape, a collapsed economy, no jobs, lack of access to basic essentials such as clean water, access to healthcare and a patriarchal culture.
Most of the women asking for charitable help sell vegetables, second-hand clothing, groceries and often travel to neighbouring countries to import goods such as South Africa, Zambia, and Mozambique. The lockdown restrictions mean that they are unable to make these journeys and therefore cannot earn their usual income.
A young mother wrote to Care for Someone desperate for support, saying:
'In this pandemic, we are starving, we been 2 days with no food, only having porridge with salt, please help us survive.'
Another asked for mentoring support 'I would like to set up a business and would like to learn more about financial literacy and digital marketing skills so that I can set up my online business.'
A Harare member noted:
'as women we suffer a lot, our husbands and the system does not support us, we don't even know where to go to get simple information or to apply for land or money to start a business'.
The Kwekwe Regional lead mentions 'women have identified some projects that will enable them to do and earn money such as vegetable growing, but we lack the funding to buy seeds & other inputs to get started, there is no help from the government or local businesses' and those in the Murewa rural community say 'we have access to facilities at local council offices where we can gather and learn, most women do not have access to WhatsApp, it will help us if mentors can visit us'
Patricia was inspired to launch Women of Zimbabwe by these stories coming from women who were asking for help in the form of food aid as well as mentoring to help them start their own businesses during COVID-19.
The purpose of the Women of Zimbabwe group is to offer support through mentoring and advice as well as funding projects that are viable and sustainable in order to empower women in such a way that they have knowledge, skills and confidence to create change to support them fulfil their potential and be able to earn a living.Since the group launched, it has attracted interest from across Zimbabwe and currently has seven active locations set up with the main group operating in Harare. Volunteer Regional leads facilitate the groups in the different locations. WoZ has also recruited volunteer Sector leads to lead on discussions relating to their areas of expertise such as mining, agriculture and gender equality issues.
Mentoring programme
In response to these women's plight, Women of Zimbabwe has developed a mentoring programme, which launched in May, and 120 women have signed up so far.  The programme duration is 3 months per cohort (with a time commitment of around 1.5 hours per month) with sessions taking place via WhatsApp and other social media platforms as appropriate.  The format is 'mentoring circles' (a group of women being mentored by one mentor) on a topic which best supports the women.  This is a continuous development programme which means all women who need mentoring will benefit.  Identified topics include financial literacy, digital marketing skills, how to navigate your way in mining, how to set up an online business, confidence and influencing skills, brand and marketing and gender equality awareness, amongst other topics.
Women of Zimbabwe are conscious that digital mentoring is available only to women living in urban areas. After lockdown restrictions are lifted, we hope that women can attend Technology hubs where they will receive some training and support that is tailored to their needs.
Each location is led by a Regional Lead who co-ordinates activities in their respective areas. We have 300 women on WhatsApp groups and nearly 1,800 Facebook followers. We have already identified some projects that women wish to start such as vegetable farming and producing reusable sanitary wear. In order to move this forward, we are exploring opening a Women of Zimbabwe co-operative that will see women working together to achieve some of these projects. This will enable the women to build power, get recognition and leverage each other's expertise.
We have 3 mentors signed up but we need more volunteers to come forward. We will facilitate a Mentor briefing session after which you will be matched to your circle based on your skills. Please visit WOZ Facebook to find out how you can get involved.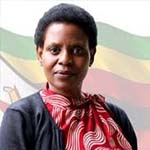 Patricia Chinyoka is an experienced diversity practitioner with a wealth of experience in diversity and inclusion. She sincerely believes that a successful diversity agenda in any organisation is essential to unlocking the value, growth and potential of a business. Patricia is CIPD qualified with many years of experience which include HR generalist/personnel gained in different roles and sectors.